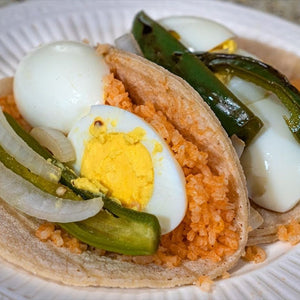 Authentic flavours cooked by home chefs
We know you care about authentic food made with the best ingredients. So every Thursday and Friday we bring home chefs in to cook authentic meals made from scratch using fresh ingredients. This is not restaurant food, this is a unique food experience where you get to try the food the way it was meant to be served.
About the Chef who is cooking this meal
Originally from Mexico from a very traditional family, Lizzet came to PEI in 2016.
 
And as any good Mexican, she started missing the flavors of Mexico from the very first day! However during her pregnancy her cravings for the flavors of Mexican food made her desperate and she decided to recreate the true Mexican food at home. Only handmade soft tortillas and salsas made from scratch was good enough to make her cravings go away!
After her daughter was born, there was no going back, she kept on making her food the true Mexican style at home. Her tacos with handmade tortillas became popular at work and always a hit with her loving husband and daughter. Her  passion for home-made food with flavors from Mexico led her to recreate more authentic recipes. The food that she makes fills her heart with joy and reminds her of her Mexican roots. She hopes to provide you with a piece of that joy with every bite you take on her home style food.